About Us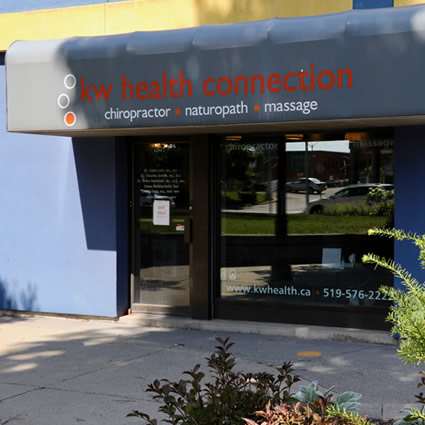 The journey to opening KW Health Connection goes back years, when Dr. Colin Leis and Dr. Erika Holenski met, just a week before they began attending university. Upon their graduation, they married and moved out west to British Columbia. At first, they practiced separately but would refer to each other constantly, due to the complementary nature of Dr. Leis's chiropractic care and Dr. Holenski's naturopathy. After some time, they realized how powerful it would be to join forces.
With a want to raise their family back in Dr. Leis's home area, they moved back to Kitchener and established KW Health Connection, which also serves those in Downtown Kitchener.
Our Goal: Science-Based, Whole-Body Care
With every patient, we seek to find the cause of a problem and provide scientifically proven treatment that's right for the individual. There is nothing cookie-cutter about the care we provide; rather, we look at your entire body and give you a precise diagnosis. Then, we can prescribe the specific treatment that will work for you.
If we don't think we can help you, we will refer you to someone who can.
The Four Pillars of Health
There is no single key to health. To be truly well, you must consider four aspects of your life:
Move right. Does your body have the proper mobility to allow you to move?
Eat right. Are you giving your body the nutrients it needs to function well?
Think right. How's your attitude? If you're always negative, your health will suffer.
Sleep right. Are you getting the proper amount of rest? 30% of the population is currently not
If any of these pillars to health are missing, you won't be at your best. We can help you make the adjustments and adaptations you need to achieve lasting, deep health and healing.
MEET THE TEAM »
Caring for a Range of Concerns
Since we're a multidisciplinary facility, people come to us with a myriad of different challenges that they're hoping we can help with. These go far beyond neck pain, back pain and headaches to include gut health, plantar fasciitis, shoulder injuries and more. It's our aim to make sure you find the best possible solution for you. Our professional team puts in the time and gives you the attention you deserve to find the right options for your particular concern.
Call Now
We're pleased to offer flexible hours, including late hours. Contact us now to schedule your time!

About KW Health Connection | (519) 576-2222