Naturopathic Medicine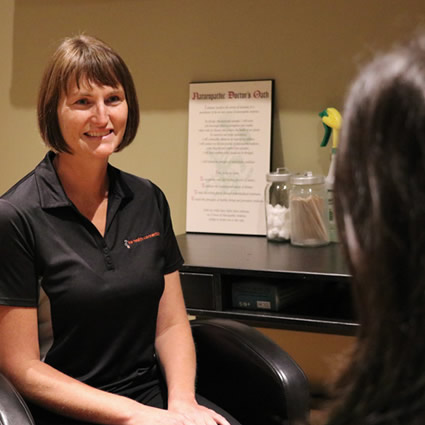 The art and science of health care are blended in naturopathic medicine. Ancient healing wisdom and contemporary science and research are combined to create a way to diagnose, treat and prevent disease without resorting to drugs or surgery. Dr. Erika is our naturopath, and she treats the cause of illness and optimizes your health through individualized care.
The Unique Principles of Naturopathic Medicine
Naturopathic medicine isn't like any other form of medicine. The guiding foundation for a naturopathic doctor is as follows:
Primum non nocere: first, do no harm.
Vis medicatrix naturae: respect and promote the healing power of nature.
Tolle causum: treat the cause of illness.
Docere: doctor as teacher; educate and empower patients to better health.
Treat the whole person: each person has factors affecting their physical and emotional health.
Health promotion is the best prevention: teach healthy living tools to optimize state of health.
What's right for you? Dr. Erika will meet with you for a full assessment determining which treatment is right for you. Your customized plan may include
Acupuncture and Traditional Chinese Medicine. Acupuncture and various Chinese herbal formulas are used.
Botanical medicine. Creams, teas, tinctures and whole plants are given as medicine.
Clinical nutrition. Dietary counseling and nutritional supplements can help your healing.
Homeopathy and homotoxicology. Small doses of medicinal substances can stimulate your vital healing forces.
Lifestyle counseling. Get the education and guidance you need to make choices in your everyday life that reduce stress and improve well-being.
Biological medicine. Sanum remedies will strengthen your body's biological terrain.
PSE®: clear your energy blockages so your energy can flow smoothly in the body.
Lab Testing. Healthy Living Assessments, Food Sensitivities and more.
Dr. Erika has completed courses with ILADs, which is the international organization dedicated to the diagnosis and treatment of Lyme. She is listed as one of their LLNDs and is qualified to assist you with the right treatment. With an eclectic approach, you and Dr. Erika will work together to find the options that are best for you, which may include lifestyle herbal treatments or being referred to another practitioner, if that is what you require.
Naturopathy can be used to treat a broad range of conditions, from acute to severe. These include
Allergies
Anxiety and depression
Arthritis
Autoimmune Conditions
Chronic pain
Chronic fatigue syndrome
Depression
Diabetes
Digestive disorders
Ear infections
Fatigue
Fibrocystic breast disease
Heart disease
Heavy metal toxicity
High blood pressure
High cholesterol
Hypoglycemia
Infertility
Insomnia
Lyme Disease
Migraines and headaches
Menopausal problems
Multiple sclerosis
Osteoporosis
PMS and menstrual disorders
Pre- and postnatal care
Pre- and post-surgical care
Skin conditions
Sports Injury
Flexible Scheduling
We understand that it can be difficult to find the time during your day to make it to an appointment. We stay flexible to your schedule with late opening hours. Are you interested in finding out more about naturopathic medicine Kitchener? Contact our friendly team now to learn more or to set up your initial consultation!
CONTACT US »

Naturopath Downtown Kitchener ON | (519) 576-2222